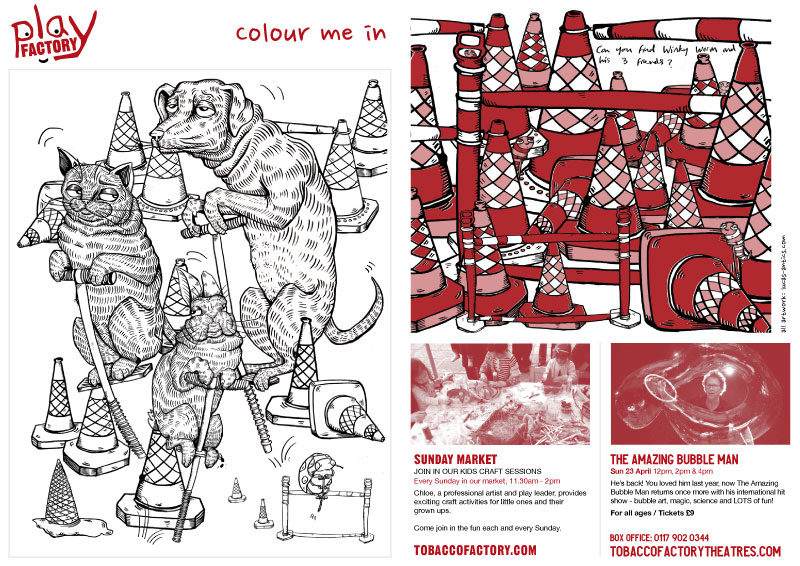 Download Activity Sheet
Alex graduated with a degree in Multi-Media Textile design and an MA in Animation and illustration and realising the therapeutic benefits of art, she went on to obtain an MA in Art Therapy.
'Where words fail, the image can bridge the gap.'
In between organising community events such as Picton Street Winter and Summer fayres and encouraging neighbours to get together, Alex works as a freelance illustrator and artist. Her quirky, humorous designs can be seen across Bristol, including large scale commissions in the Triodos Bank, The Bristol Bike Project and The Playing Cards on the neighbours' seven foot gates and inside  The Birdcage, Bristol's first coffee and vintage clothing boutique. Several of Alex's foxes may be spotted in Montpelier and Easton and a tiger in a hoodie design was accepted for the Bristol £5 note.
The Little Shop in Stokes Croft, Bristol was launched in Autumn 2013 with fellow artist friend Amber Elise. They transformed a grubby building with a new mural of flying bunnies and pineapples. The Little Shop hosts a range of artists every six to eight weeks, showcasing talent from here and beyond Bristol.
www.lucas-antics.com