It's 25 years since the Tobacco Factory building was saved from demolition and brought back to life, repurposed as a creative and social hub for the community.
The building was originally part of a huge Victorian factory complex which had been derelict since the mid 1980s, when Imperial Tobacco relocated to Hartcliffe. When no future uses of the site were found, all the buildings were scheduled for demolition. But, in 1994, George Ferguson stepped in to save the Franklyn Davy building on the corner of North Street and Raleigh Road. While the surrounding buildings were sadly demolished, he set about developing plans which led to the vibrant mixed building it is today.
You can read all about the history of the building here.
Extensive renovation works took place (1994 – 2000) with various pop-up events occurring in the building, including theatre shows. The Cafe Bar opened in 2001 and since then a whole lot more has happened.

Celebration weekend
Over the weekend of 25 & 26 May, we're going to be celebrating the many things that make up the Tobacco Factory experience – from theatre shows to Upfest, from tap takeovers to live music and from circus to street markets.
Here is an outline of what we have in store for you.
We hope you'll join us for a big ol' celebration of all things Tobacco Factory! Invite your friends here.
SATURDAY 25 MAY
The Yard
Circus workshops & performance with Cirque de Silk / 12-4pm
Bristol is renowned for its contemporary circus companies and we've had circus acts at many of our events. Join in with one of the afternoon workshops learning aerial circus skills (limited places) and watch out for pop-up performances.
Street art / 12 – 8pm
We've been one of Upfest's key venues since its inception in 2008. Upfest is taking a break this year, but to celebrate the amazing world of street art, they've hand-picked local artists to paint the boards around our Yard. Plus, we've the side of our building (facing Aldi) being painted by artist Jody.
Kids crafts / 12 – 5pm
Exciting craft activities for little ones with Kids Cre8
Street food / 12 – 8pm
We've been part of the street food phenomenon over recent years and we invite some of Bristol's best to serve up their finest dishes, including Low n Slow, For Mice And Men & Gopal's Curry Shack.
DJs / 12 – 9pm
Joining the dots between soul, disco, house, boogie and 80s jams we've DJs Dirty Casino, Toddywork, Waxmouse and Kiia B2B LMR.
Projections by Limbic Cinema / 9pm – close
We've commissioned a bespoke moving image piece by Limbic Cinema which will be mapped onto the rear wall of our building to be viewed from The Yard as the sun sets.
Café Bar
Art exhibition / all month
Artworks that feature or have been inspired by Tobacco Factory. More info here.
Bristol Beer Factory tap takeover / all weekend
Our friends and neighbours, Bristol Beer Factory, bring their magnificent array of award-winning beers to our pumps for the whole weekend and they'll be launching two new beers.
Baraka / 8pm – close
Bringing the day to a crescendo with irresistible afrobeat. Plus, DJ Paulo Fernandez.
Memory wall / all weekend
How has Tobacco Factory been part of your life over the last 25 years? Share your favourite experiences in our memory box (located in the Cafe Bar). We'll add these to our memory wall throughout the weekend.
Theatre
Then and now / Theatre Bar / 12 – 5pm
The fascinating story of the Tobacco Factory building, told with photos and objects, from its opening in 1912, the renovation and up to present day.
Audio exhibition / Spielman Theatre / 12 – 5pm
Memories from casts and staff of past theatre shows and how the theatre evolved.
The Factory Singers Choir / Theatre Bar / 1pm & 3pm
Featuring pop songs from the 60's and 90's.
Puppetry / Theatre Bar / 2pm
Dik Downey & the Big Bad Wolf and Steve Wright Puppets do mad-cap puppetry – plus pop-ups around the building.

SUNDAY 26 MAY
Producers market / The Yard / 10am – 3pm
Our Sunday Market launched in 2004, initially monthly and later weekly. It's grown to become one of the best community markets in the city, with a strong following. At the end of every month we've an emphasis on local food and drink producers.
Street banquet / Raleigh Road / 10am – 3pm
On the 10th anniversary of the market (2014) we closed a section of Raleigh Road so the market could spill out into the street, complete with a pop-up 'village green'. We'll be laying out tables and benches down the middle of Raleigh Road, so you can bring 'n' share food and drink with friends and family – and make some new pals too. Soundtracking the banquet will be uplifting jazz from the Bristol Community Big Band (10.30am) and heartfelt songs by Willow (1.30pm). Plus, DJ Pete (Amber Green Records) playing the finest records from the past 50 years.
Print your own Tobacco Factory Matchbox / 11am – 2pm
Create your own lino cut stamp of Tobacco Factory and print it onto a matchbox to take home.
Drop in between 11am-2pm to take part. Recommend coming early to not miss out.
Suitable for ages 12+ / £3 per person / run by print-maker Victoria Willmot
DJs, / The Yard / 3 – 9pm
Spinning outer world sounds we've DJs Owain K, Gilbert and Leewok.
The Gin Bowlers / Cafe Bar / 8pm
Raucous live swing band & dancers.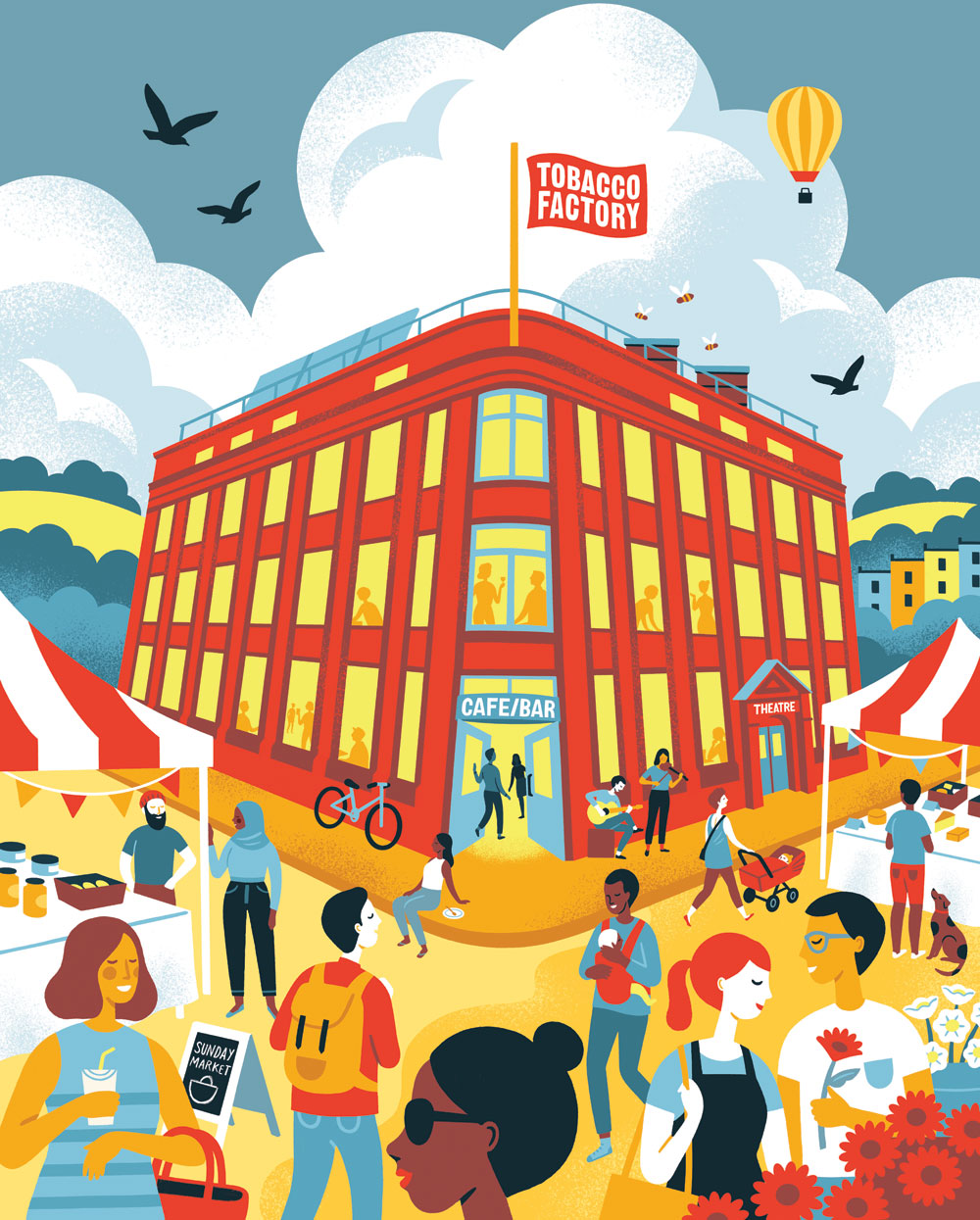 (illustration: Lucy Davey)