As part of this years South Bristol Arts Trail, along side local artists exhibiting in the café bar, we will be hosting an Art Market on Saturday 23rd September 10am-4pm, with local artists and makers, live painting and creative workshops for kids and adults.
This is a free exhibition in the cafe bar
Meet our exhibiting artists below!
Lucy Roberts
Lucy's Treasure Boxes are created in the tradition of the 'wunderkammer' or curiosity cabinet, the precursor to modern museums. Museum visitors these days expect to see objects categorised and displayed according to form and function, or grouped by type or theme. By contrast these Renaissance 'wonder rooms', most popular in the sixteenth century, were designed purely to delight and inspire. They reflected the passions of the collector themselves and were often presented in an eccentric or unexpected way -unusual and exotic specimens from faraway places and freaks of nature sitting aside curios and articles made by the most skilled artisans of the time.
She finds great pleasure in organising these various ingredients in a way that her eyes find harmonious. She likes to pair both curious and everyday natural forms with familiar, old and worn man-made objects – some as banal as a coin or a rusty nail, which have journeyed through life for many years collecting their secret stories along the way. www.madebylucy.com | Instagram  @madebylucyroberts | Facebook – Made By Lucy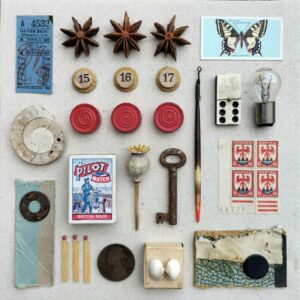 Lisa Travers
Lisa Travers makes mesmerising kaleidoscopic three dimensional collages from vintage anatomy illustrations. She is heavily into pattern and geometry and will be bringing a range of affordable prints and cards to the art trail.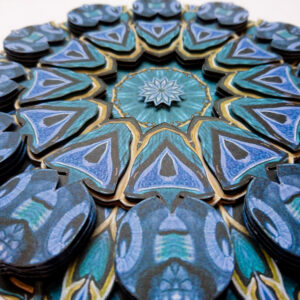 Aidan Barnard
Aidan Barnard is an exciting emerging abstract Artist. Born in Norwich in 1986 he studied Art Foundation at Norwich School of Art and Design and Animation at University Collage of the Creative Arts in Maidstone. Following his education, he moved to Bristol in late 2008 where he continues to work as a graphic and 3D designer. Towards the end of 2019 he began experimenting with more traditional artistic materials again, and in the summer of 2021 (after becoming a father of twins in 2020), Aidan's abstract art became more serious.     
"I want to keep creating in my free time, but in a way that distils all my creative knowledge into physical works". 
Mindscapes or mindspheres are personal representations of emotions, memories and the subconscious captured in acrylic paint and inks. The dialogue of hand drawn dots, circles and lines evokes a galaxy of endless interconnected possibilities.  Motion and graphic design and the materiality of the medium or paint lead the unique aesthetic of the artist as he journeys through the mind. 
"I focus on creating visuals that engage through a language of contrasts".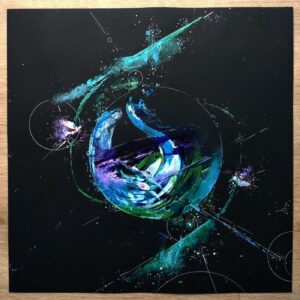 Sarah Martin
Inspired by her surroundings, Sarah Martin's exhibition is a series of illustrations and screen prints celebrating Bristol. Her illustrations use bold colour combinations and block shapes to illustrate areas around the city that inspire her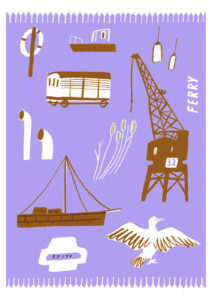 Emily Bessex
Originally from Tasmania, Emily Bessex (Eightyeight80 Art) makes bright and joyful art, mainly using acrylics. The pieces on display will be joined by many vibrant friends during the weekend of the Arts Trail. Expect colourful critters, chaotic glittery plant pots and much more!
Instagram @eightyeight80art